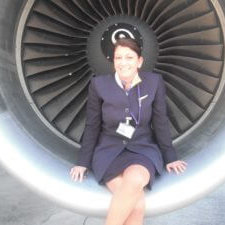 Amanda Schisano
Founder | Misfit PT
Slimming world, WeightWatchers, 5:2, Paleo, The Atkins Diet, The Dukan Diet, High Carb, Low Carb, High Fat, Low Fat, High Protein, Baby Food Diet (?.!), Juicing, Slimfast, Forever Living, Herbalife, Superfood Diet....... I'VE TRIED THEM ALL!
There's probably another 10 fad diets I could add to that list but you get the idea! If there was a diet or pill or potion that told me I'd lose weight then I was on it! Don't get me wrong, some of these did work for me but the results were only ever short term and what I didn't realise at the time was that I was messing with my body so much that eventually losing weight became increasingly more difficult.
Eventually I realised that in order to lose weight I needed to burn off more calories than I was putting in. Simple really. So I started running. It was a start.
That was back in the days of when I was a carefree air hostess, I'd run on my days off then eat naughty food on the flight and drink my body weight in alcohol down route! That was my idea of balance!
After my 12 years of flying I had a huge career change in 2011 and became a full time reserve soldier for the British Army, this introduced me to a different style of exercise and I was pushed to limits I hadn't been pushed to before. My diet was pretty much carb filled stodge from the barracks whilst in the UK or ration packs and whatever was on offer when I was on tour - I spent 15 months in total in Afghanistan. I was introduced to strength training during this time.
I got back from Afghan in 2013 and became a Close Protection Operator, I worked for various VIPs as a bodyguard and eventually settled into a role looking after the same client for 4 years. It was during this time that I was introduced to 'clean' eating and explored strength training again. I also took up boxing for fitness.
Today I keep my diet pretty clean for the majority but I'm a realist and a massive lover of all foods so I do indulge but I've figured out the balance of diet/exercise that I need personally to keep myself trim and at a curvy size 12, I'm fitter and happier than I've ever been whilst having yoyo dieted my way to this point!
I completed my Active IQ Level 3 Gym Instructing and Personal Training course in 2018. As I said previously I have tried every diet in the past and many different varieties of exercise. Gyms always had me feeling self conscious, there's nothing more intimidating than feeling uncomfortable in your own skin and then having to walk into a gym that's full of huffing puffing and grunting people that look like they've walked out of a sports magazine!
My view is that fitness and capability comes in all shapes and sizes. Most people just need a helping hand and some encouragement to get started. With this in mind Misfit was born.
I was looking for a career change that kept me in the UK more and so I've now created a small gym at home where I hope to help anyone out there that feels like I felt when I started to learn about exercise, I felt like a misfit, I still do sometimes when I go to sit on a piece of new equipment the wrong way! The only difference is that these days I don't really care, I'm just doing my thing!
"You don't have to fit in to be fit" 
What Next?
If you're ready to let me guide you through your own journey then just drop me a line.